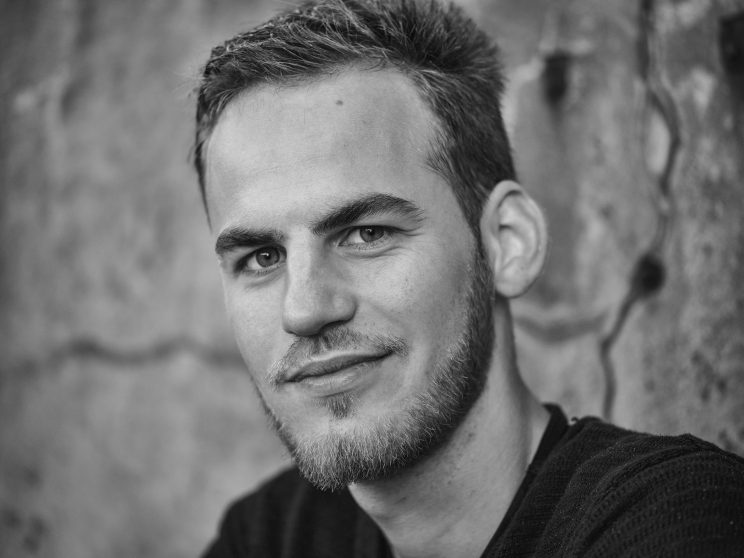 Loïc Destremau (b. 1992) is a French-Danish composer working with instrumental, electroacoustic, and multimedia set-ups. Utilising both conventional and self-made instruments, devices, and installations, Destremau's work appears in constellations ranging from solo performance to large ensembles. His recent work focuses on exploring core musical premises such as instrumental physiology and audio-visual perception, as well as the relationship of music to speech, text, and other linguistic features.
Loïc Destremau has participated in several domestic and international workshops as well as received commissions from various ensembles and soloists, resulting in collaborations with ensembles such as
Oslo Sinfonietta, Ensemble Recherche, Figura Ensemble, Esbjerg Ensemble, Jutlandia Saxophone Quartet, Aarhus Sinfonietta, Njyd Kvartet, Chamberplayers, Taïga String Quartet and soloists:
Jakob Bangsø (guitar), Heigo Rosin (percussion), Anja Nedremo (saxophone) & Alexander Wnuk (percussion).
Loïc Destremau's music has been performed at festivals such as Warsaw Autumn, NOW! Grenzgänger (Essen), KLANG Festival (Copenhagen), Nordic Music Days (Helsinki), Figura Festspiele (Copenhagen), OpenDays (Aalborg), Young Nordic Music Days (Aarhus, Reykjavik, Bergen), New Music in Birkerød, New Music for Strings Festival (Aarhus, New York), Nordic Saxophone Festival (Helsinki), Percussion Plus (Stockholm) & Guitar + (Aarhus).
Being board member of Young Nordic Music Denmark (UNM DK), AUT (Aarhus Young Tone Artists) as well as artistic director of the Aarhus-based new music ensemble Faces Ensemble, Loïc Destremau is also an active entrepreneur and concert arranger for new music and sound art in various contexts in Denmark.
Whilst studying in the gymnasium (linguistic department), Loïc Destremau began his musical education in 2008 at the Zealand Church Music School in Roskilde and graduated as organist in 2012. During the same period, he attended lessons in chamber music, piano and composition at the local music school in his home-town, Vordingborg. In 2012 he entered the Royal Academy of Music, Aarhus (DK) in the composition department with lecturers Simon Steen-Andersen, Niels Rønsholdt & Lasse Laursen and finished his undergraduate studies in Summer 2015. The year later (2015-2016) he studied abroad as an Erasmus-exchange student to Conservatorio di Bari "Nicollo Piccinni" before moving back to Aarhus to finish his master's degree (2016-2018).
In 2017, Loïc Destremau received the Carl Nielsen Composer Talent Prize (Carl Nielsen & Anne Marie Carl-Nielsen Fonden) and has also received grants from funds such as Augustinus Fonden, Oticon Fonden, Danish Composers' Society & P.A. Hansens Legat.
– – –
CURRICULUM VITAE:
Childhood:
Born 1992
Grew up in Vordingborg
Played keyboard instruments in various bands and composed imitation miniatures of different genres
Education:
2016-2018  :  Master studies at the Royal Academy of Music Aarhus: composition – lect. Simon Steen-Andersen & Niels Rønsholdt
2015-2016  :  Erasmus-exchange to Conservatorio di Bari: composition – prof. B. Putignano, R. Andreoni, R. Santoboni & F. Scagliola
2012-2015  :  Bachelor studies at Royal Academy of Music, Aarhus: composition – Simon Steen-Andersen & Niels Rønsholdt
2008-2012  :  Talentakademi Storstroem: piano & chamber music – Ensemble Storstrøm (Chamber Players)
2008-2012  :  Church Music School of Zealand, PO: organ – Ch. Dagnaes-Hansen / conducting – P. Enevold / theory & history – J.O. Brinth
2008-2011  :  Private lessons: composition – Svend Aaquist
2008-2011  :  Highschool: languages & philosophy – Vordingborg Gymnasium & HF
2005-2012  :  Vordingborg Music School: piano – prof. Anna Bock & Svetlana Langhoff
Festivals:
2018       :  Nordic Music Days, Helsinki
2018       :  KLANG Festival, Copenhagen
2018       :  Percussion Plus Festival, Stockholm
2017       :  Warsaw Autumn, Warsaw
2017       :  NOW! Grenzgänger, Essen
2017       :  The House Festival/Aarhus Jazz Festival, Aarhus
2016,2017  :  New Music for Strings Festival, Aarhus (2016) & Stony Brook (2017)
2016-2018  :  Young Nordic Music Days, Aarhus (2016) & Reykjavik (2017)
2015,16,18 :  Nordic Saxophone Festival, Helsinki (2015) & Aarhus (2016,2018)
2015       :  Figura Festspiele, Copenhagen
2014,2018  :  Open Days, Aalborg
2014       :  Ny Musik i Birkerød, Birkerød
2013       :  Guitar +, Aarhus
Collaborations:
Ensemble Recherche
Oslo Sinfonietta
Aarhus Sinfonietta
Figura Ensemble
Esbjerg Ensemble
Chamber Players
Njyd Quartet
Taïga String Quartet
Faces Ensemble
Vela Quartet
Jakob Bangsø (guitar)
Heigo Rosin (percussion)
Alexander Wnuk (percussion)
Anja Nedremo (saxophone)
Prize & funds:
2017       :  Carl Nielsen & Anne Marie Carl-Nielsens Legat – Composer Talent Prize
2017       :  Danish Composers' Society – Working grant
2015-2016  :  Augustinus Fonden / Oticon Fonden / P.A. Hansens Legat / Danish Composers' Society
Entrepreneurship:
Faces Ensemble – Artistic director (2016-)
Young Nordic Music Denmark (UMM DK) – Treasurer & board member (2016-)
Aarhus Unge Tonekunstnere (AUT) – Board member (2017-)
PULSAR- & RAMA Festival – Concert producer for RAMA composition class (2014-)
Courses / Workshops:
2017       :  Young Nordic Music Days 2017, Reykjavik: lectures with Anna Thorvaldsdottir & Raviv Ganchrow
2017       :  Reading session with JACK Quartet, Aarhus
2016,2017  :  New Music for Strings Festival, Aarhus & New York: lecturers E. Buene, P. Setzer, M. Kimura, E. Drucker, S. Steen-Andersen a.o.
2016       :  Darmstädter Ferienkurse für Neue Musik, Darmstadt: lessons with F. Sarhan, G. Aperghis, M. Ciciliani & L. Petter Hagen
2014-2015  :  Klassen Arbeit with Ensemble Recherche, Freiburg: advising leturers Isabel Mundry, Simon Steen-Andersen & Nadir Vassena
2014,2015  :  Donaueschinger Musiktage: Next Generation Program with lecturers Cathy van Eck, Johannes Kreidler a.o.
2014       :  Esbjerg Ensemble – Composition Workshop, Esbjerg: advising lecturers Niels Rosing-Schow & Simon Steen-Andersen
2013       :  "Guitar +" Festival for guitar and composition, Aarhus: advising lecturers J. Ruck, J. M. Sanchez-Verdú & F. Munk Larsen.
2013       :  Composition workshop, Aarhus: with Århus Sinfonietta & Simon Steen-Andersen
2009-2015  :  International Masterclasses & Workshops: Altomünster, Svaneke, Trani, Bari & Pucisca: lecturers Markus Kreul & Biagio Putignano
Languages:
Fluent           :  Danish, French & English
Intermediate     :  Italian, German & Spanish
Limited          :  Serbo-croatian & Portuguese
Families:
Danish families  :  Rosenvinge-Vibede & Saunte
French families  :  Destremau & Béchaux