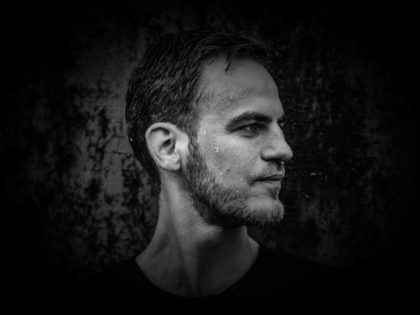 Loïc Destremau (b. 1992) is a French-Danish composer and sound artist with an interdisciplinary approach to staged sound, crossing instrumental with electronic, multimedia and performance music for installations, soloists, ensembles and orchestras in his work exploring core musical premises and relations to linguistic features.
The works often comprise home-made gadgets, devices and preparations next to conventional instruments, visuals and electronics.
Loïc Destremau has participated in several international and domestic festivals, workshops and courses and has received commissions from various ensembles and soloists, resulting in collaborations with among others:
Athelas Sinfonietta, Aarhus Sinfonietta, Oslo Sinfonietta, ensemble recherche, Uusinta Ensemble, Figura Ensemble, Esbjerg Ensemble, Ensemble Dasein, Jutlandia Saxophone Quartet, NJYD Quartet, Taïga String Quartet and eventuell.|duo.

Loïc Destremau's music has been performed at festivals such as Warsaw Autumn, NOW! Grenzgänger (Essen), KLANG Festival (Copenhagen), Nordic Music Days (Helsinki, Bodø), Figura Festspiele (Copenhagen), OpenDays (Aalborg) and Young Nordic Music Days (Aarhus, Reykjavik, Bergen, Piteå).
Composition studies with Simon Steen-Andersen, Niels Rønsholdt, Biagio Putignano and Marko Ciciliani in Aarhus, Bari and Graz (2012-2018).
In 2017, Loïc Destremau received the Carl Nielsen Composer Talent Prize (Carl Nielsen & Anne Marie Carl-Nielsen Fonden) and has also received grants and support from funds Augustinus Fonden, KODA, Oticon Fonden, Danish Composers' Society & P.A. Hansens Legat.
– – –
CURRICULUM VITAE:
Intro:
Loïc Hugues Vibede Destremau
Composer, born 1992
Grew up in Vordingborg (DK) playing keyboard instruments and composing for ensembles and electronic tracks.
Festivals:
2018-2020  :  Nordic Music Days, Helsinki (2018), Bodø (2019)
2018       :  KLANG Festival, Copenhagen
2017       :  Warsaw Autumn, Warsaw
2017       :  NOW! Festival, Essen
2017       :  The House Festival/Aarhus Jazz Festival, Aarhus
2016-2019  :  Young Nordic Music Days, Aarhus (2016), Reykjavik (2017), Bergen (2018), Piteå (2019)
2015       :  Figura Festspiele, Copenhagen
2014,18,19 :  Open Days, Aalborg
2014       :  Ny Musik i Birkerød
Collaborations:
Athelas Sinfonietta
Oslo Sinfonietta
Aarhus Sinfonietta
ensemble recherche
Ensemble Dasein
Ensemble Storstrøm
Uusinta Ensemble
Esbjerg Ensemble
Figura Ensemble
Njyd Quartet
Taïga String Quartet
Jutlandia Saxophone Quartet
Quartet Vela
eventuell.|duo
Ekki Minna duo
Commissions:
Athelas Sinfonietta & KLANG
OpenDays
Ensemble Dasein
eventuell.|duo
Aarhus2017 – Capital of Culture
NJYD
Jutlandia Saxophone Quartet
Figura Ensemble
Jakob Bangsø
Anja Nedremo
Prize & funds:
2018       :  Danish Arts Foundation – Working grant
2017       :  Carl Nielsen & Anne Marie Carl-Nielsens Legat – Composer Talent Prize
2017       :  Danish Composers' Society – Working grant
2015-2016  :  Augustinus Fonden / Oticon Fonden / P.A. Hansens Legat / Danish Composers' Society
Education:
2020-2022  :  Advanced Postgraduate studies at the Royal Danish Academy of Music, Copenhagen –
2016-2018  :  Master studies at the Royal Academy of Music, Aarhus: composition – with Simon Steen-Andersen & Niels Rønsholdt
2015-2016  :  Erasmus-exchange to Conservatorio di Bari: composition – with B. Putignano, R. Andreoni, R. Santoboni & F. Scagliola
2012-2015  :  Bachelor studies at Royal Academy of Music, Aarhus: composition – with Simon Steen-Andersen & Niels Rønsholdt
Entrepreneurship:
2016-2019  :  Artistic director, Faces Ensemble
2016-2018  :  Treasurer and board member, Young Nordic Music Denmark (UNM)
2017-2019  :  Producer and board member, Aarhus Unge Tonekunstnere (AUT)
2014-2018  :  Producer, composition class concerts (PULSAR & RAMA festivals)
Courses / Workshops:
2019       :  Impuls Akademie, Graz: tutors Michael Maierhof & Christian Dierstein, lesson with Agata Zubel
2018       :  Akademie für Zeitgenössiche Musik, Luzern: lectures with Dieter Amman and Alberto Posadas
2017       :  Reading session with JACK Quartet, Aarhus
2016,2018  :  Darmstädter Ferienkurse für Neue Musik: lessons with F. Sarhan, M. Ciciliani, J. Kreidler & W. Hoban
2014-2015  :  Klassen Arbeit with ensemble recherche, Freiburg
Languages:
Fluent         :  Danish, French & English
Intermediate   :  Italian, German & Spanish
Limited        :  Serbo-croatian & Portuguese